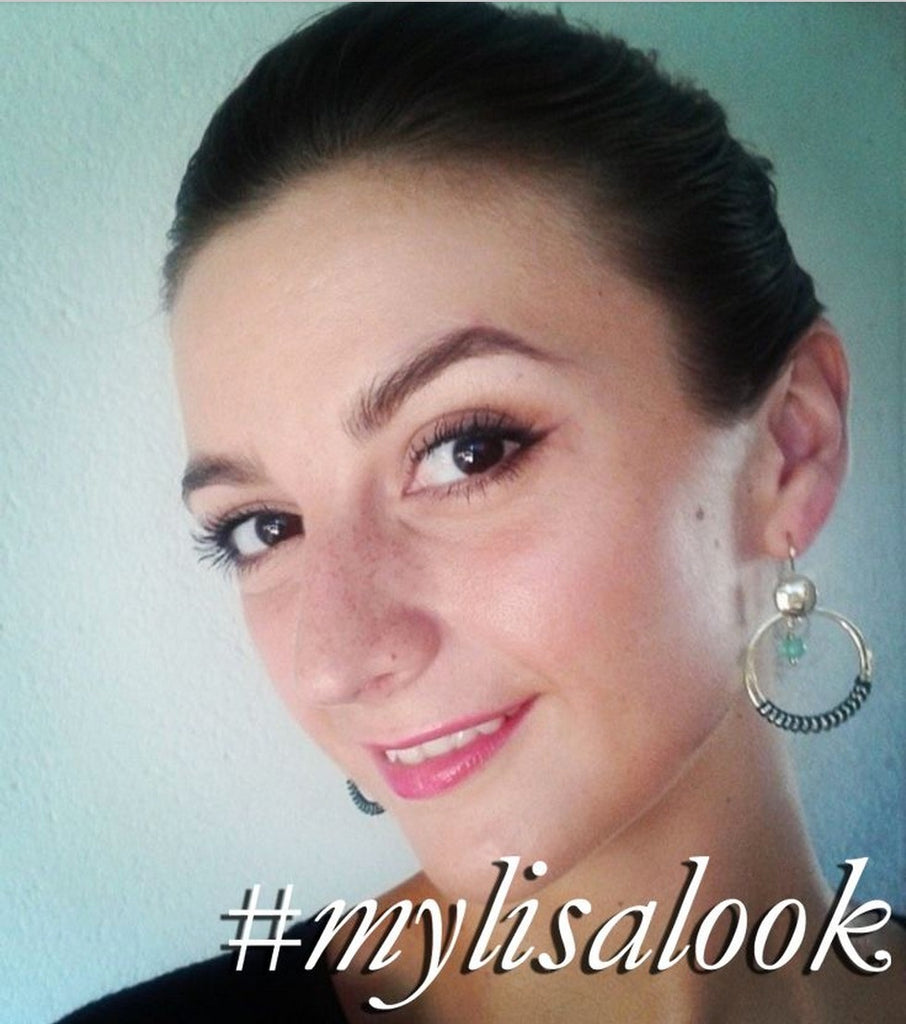 The #MyLisaLook winner is... oops I've actually got 12!
It's the second #mylisalook giveaway, and once again the response has been, in a word, overwhelming! I've had hundreds of entries with so many of your fabulous getting-ready-to-go-out looks for the holidays. You've been super-busy with your brushes this time around, and I've absolutely loved looking at all the looks you've created.
It hasn't been easy to pick just one, I was spoilt for choice. Some people deserved to win because the make-up was just so well executed, others because they have been posting a lot over the past few months and I've noticed a huge improvment in their skills and others because they adapted the look so well to suit their faces! So without further ado, the overall winner of this giveaway is Emma (above), with my 'Easy, Effortless Winged Eyeliner' Look.  I've been admiring Emma's #mylisalook 's over the past few months and have to say she is getting so good at interpreting the looks to suit her face and own unique beauty. Her make-up skills are getting better every time too, she is becoming soooo ridiculously good at foundation and eyebrow application... really fresh and modern in her approach. If it hasnt happened already Emma, I'm sure friends are now asking you to do their make-up for special events! So you are the deserving winner of a Limited Edition Alexa for Eyeko Set, Benefit, Whole Lotta Lovin' Set, Nails Inc Nail Polish Diary, Lancôme In Love Christmas Cubes and a Topshop Lip and Cheek set! Congratualtions!
Now heres the ooops bit... I couldn't actually pick one winner, so I've decided to choose two more winners and nine runners up!!
Second place goes to Francesca (below) who recreated my 'Easy Dramatic Smoky Eye With Colour Technique' I just loved how perfect her application was of this colourful yet smokey look. The shades compliment her dark eyes so well and the blending is excellent! Again, it feels very modern and clean, a make-up which is dramatic but which allows her natural beauty to really shine through. Its emphasising and highlighting beautifully what she naturally has. Congratulations Francesca, you have inspired me with your gorgeous interpretation of this look.
Third place goes to Julia (also below), who was inspired by my 'Baby Bardot Fresh Spring Makeup'  The finished look is just so fresh and suits her face and personality so well - of course I dont actually know her but I can sort of feel her personality through the sparkle in her eyes in the picture ... if you know what I mean. Well done Julia, I love your make-up! 
Then for my nine runners up, I just adored all of these...
Emma will receive the advertised first place prize of goodies and I'll put together two extra packages for my 2nd and 3rd place gals ... and a further nine very nice little somethings for all the runners up. You will all recieve your prizes around the 2nd week of January ... a good way to start the new year.
What a fabulous way to end 2013! A massive "Thank You" for sharing your fabulous #mylisalook make-ups with me. I look forward to seeing more looks from my videos and gallery so do keep them coming in 2014.

If you haven't had a peek already, please take a few moments to browse all the looks - there are now over 1,500 - and I'm still uploading some that came in today! Once again, thank you so much for you continued enthusiasm for #mylisalook.
Happy Holidays! Xxx