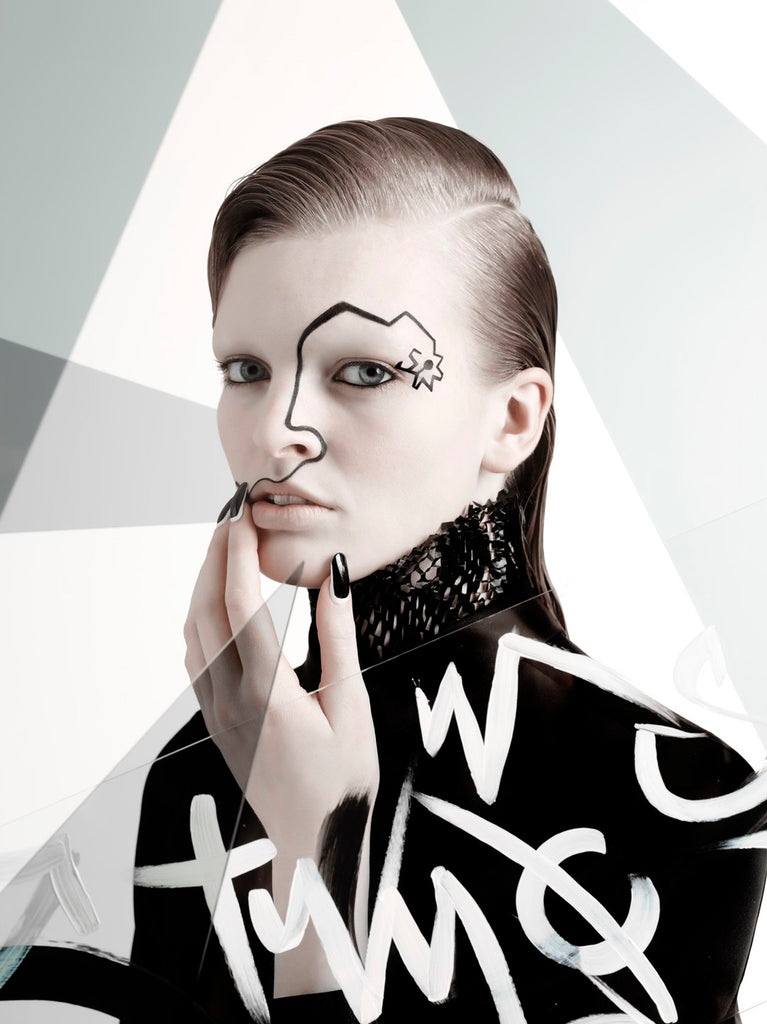 Draw the Line - Graffiti Graphic Looks for Vogue
I recently worked on this creative editorial beauty shoot for the November issue of Vogue Italia with super-talented photographer Michael Baumgarten. The story was inspired by graffiti artist tags, with a little bit of Serge Lutens, 80's club and music culture and some other art references thrown in for good measure. I did some research beforehand, but not too much, as I didn't want to be too influenced by other peoples' work and wanted to feel free on the day to create and scribble whatever came into my head.
Everything was drawn freehand as I simply couldn't find stencils that looked anything like the shapes I had in mind - and I didn't want to make my own stencils as they would then restrict my movements. 
To draw, I used a variety of liquid and gel eyeliners each with different brush and nib sizes. For some of the thicker lines I used Eyeko's Skinny Liquid Eyeliner as the tapered edge proved useful for changing from thick to thin with just a change of pressure. I also used Mac Liquid Eyeliner in Boot Black and Bobbi Brown Long-Wear Gel Eyeliner in Black Ink as they both dry to a really good, matte texture (Maybelline Eye Studio Lasting Drama Gel Liner and L'Oréal Paris Super Liner Gel Intenza are both great high street liner options).
In terms of brushes, to create the small, delicate lines I used brushes with fine tips like Chanel Ultra Fine Eyeliner Brush and Zoeva Fine Liner Eye Brush then, as the lines became thicker and more elongated, I opted for wider brushes like By Terry Angled Eyeliner Brush and Laura Mercier Flat Eye Liner Brush.
As the liner was the focus of the look, and I knew that the hair was also going to have a graphic edge, I decided to bleach model Juliane's brows and keep her skin and lips pale - the perfect blank canvas for my liner creations!
Each picture was very much a collaboration between everyone on set - the photographer, stylist, set designer, hairdresser and myself. For example, in the image with Juliane's graffitied forearm, Ana the set designer looked at the make-up then built an amazing set with different graphic shapes to compliment the look. All in all a lot of liner action and a chance to really dream!
What is your favourite liner for creating a good line?
Credits
Photographer: Michael Baumgarten
Stylist: Anders Sølvsten Thomsen
Hairdresser: Jose Quijano
Set designer: Anna Burns
Model: Juliane Grüner