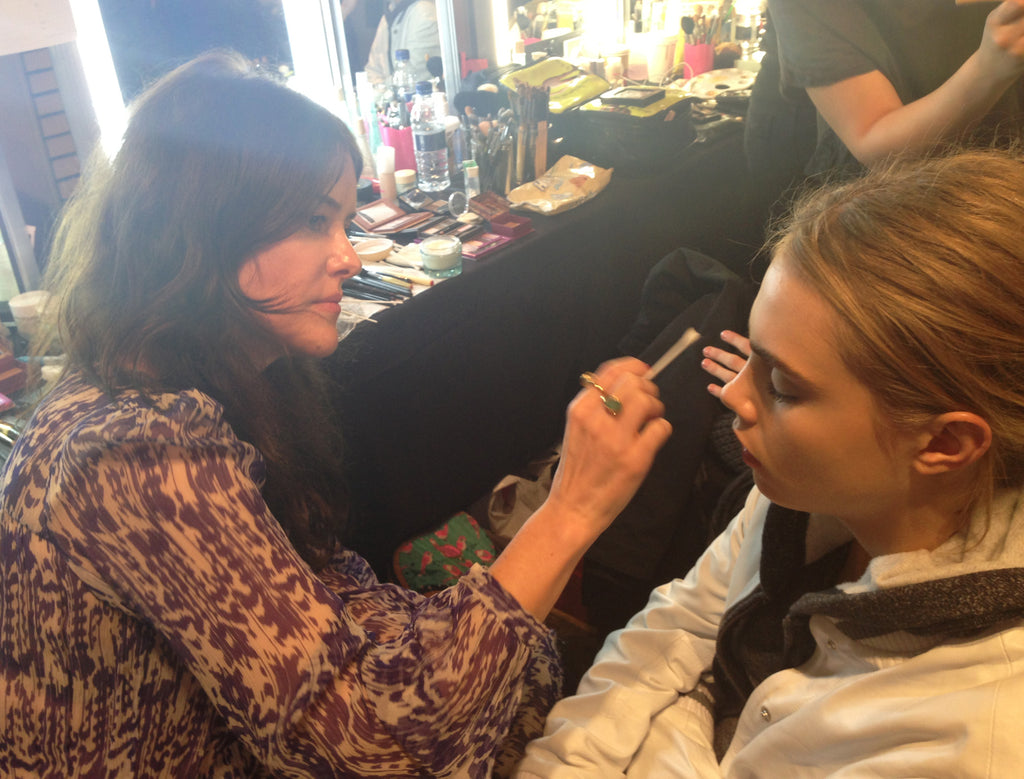 The Make-up look at Matthew Williamson
Matthew's inspiration for the collection was the Northern Lights - and as you guys know, I actually saw them recently so I felt surprising well prepped! The clothes were gorgeously embellished with lots of amazing colour combinations and beautiful embroidery.The set featured an iceberg type sculpture which changed colour throughout the show going from neon pink to orange (the girls were caught in a magical snowstorm in the finale too!)..... so overall there was quite a lot going on. With this in mind, my idea for the make up was to have it almost as if, from the neck up, it was like looking at a sepia photograph... neutral, desaturated tones and natural definition. Similar to when you do an instagram picture of yourself, maybe when you are not wearing any make-up, and put a special filter on that instantly sculpts and shapes your face giving it a wonderfully even tone. Even if you don't look like you have any make-up on, it makes everything look that extra bit gorgeous!
I wanted skin to be the hero and look totally flawless but in a very realistic way. I used Benefit's 'Hello Flawless, Oxygen WOW' foundation and buffed it into the skin in a couple of very thin layers. After that I used their deliciously creamy 'Fake-Up' concealer, a product which combines moisturiser and concealer in one twist up stick so the delivery is extrememly hydrating, nourishing and dewy (great for very dry skin). I then used the Boi-ing concealer for pin-pointing. I spent the majority of my time doing this as I wanted skin which appeared to have no make-up on at all but at the same time registered as flawless - its a time consuming and precise business as any of you that watch my videos will know!
Next on to eyes, I sculpted eyes using the powder in the lightest 'Brow-Zing' Palette (a matte, neutral taupe) and buffed and blended using the grey shades from the 'Smokin Eyes' Palette, To finish the eye look I used High Brow pencil along the lower water line and the shimmery peach shade from the 'Big Beautiful Eyes' palette along the upper lash line. No mascara was used. A tiny bit of sculpting was done around the top of the cheekbones and temples and buffed to nothing for a super natural effect.
Brows were key, I wanted big natural, bushy brows so I 'backcombed' the brows using brow gell really working it into the roots of the brows to create bulk before brushing up to smooth. Cara Delevigne's luchious brows really didnt need much of this!
Lips were treated with lipbalm and that was it!
Special thanks to my fantastic team from Benefit! Everyone remained calm under pressure, despite several models arriving 30 minutes after Matthew's show should have started!! Looking forward to more show madness tomorrow. Until then X