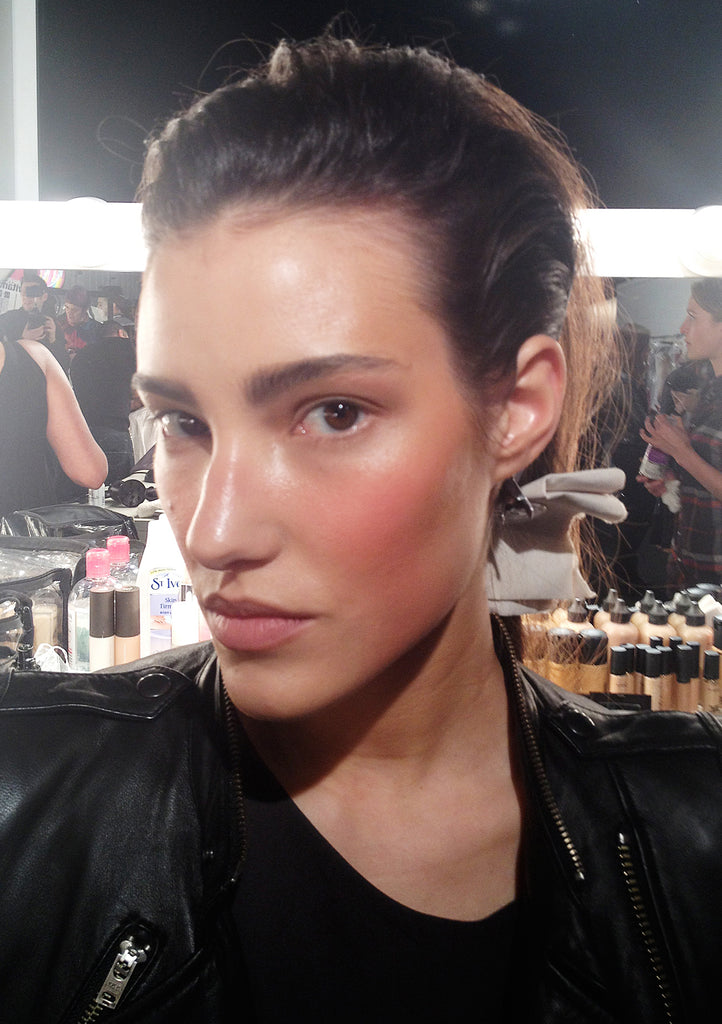 Lisa Loves - Creme Textures at LFW
On Tuesday evening I did the make-up for the Osman show at London Fashion Week. Osman is known for his minimalism but for this his A/W 2012 collection he combined his minimalist vision with a beautifully heady mix of rich texture and colour. Beautifully textured brocades in opulent red and gold were accompanied by a sprinkling of tribal folklore in the shape of colourful embroidered applique, a few extraordiary pieces of artfully placed jewellery and fabulous brocade shoes.
Everyone liked the idea of weathered looking skin. The sort of skin you get if you live in the mountains or get a winters tan when skiing. I used old portraits of Mongolian and Tibetan women as reference for my mood boards as they often have such amazing looking complexions ... a mixture of sun and wind at high altitude! The key to the make-up was definitely getting the shape of the blush right as it involved taking it horizontally across the cheeks, subtly down on to the jaw and across the bridge of the nose to make it look completely real. See the top pic for one of the first girls I made up, gorgeous model Laura Gosch at Elite, for a close up look at the texture of the skin, shape and colour of the blush, contour and bronze cremes.
I wanted a raw luscious feeling to the make-up so brows were really important. I wanted full, healthy looking brows so created a brow shrine backstage to inspire my team, featuring some of my brow heroines – of which Brooke Shields in Blue Lagoon is Queen!
I was assisted by my very own Jessie plus Irene, Jade, Jessica, Alev and Louise from the Mac Pro Team who were all fantastic. I decided to use only cream textures and chose the fantastic new Pro Sculpting Crèmes as a starting point for the look. I'm not sure when they are launching into pro stores as they are only being tested backstage at the moment but they are definitely going in to my kit … great texture and six perfect shades to cover all skin tones. Look out for them!
Products used:
Strobe Cream - on the upper cheekbones for healthy sheen
The Mac team used Mac bases but I used my trusty and long since discontinued Chanel Pro Lumiere to give a very dewy but perfected look I was after. Think my supply will be all run out by next show season though … a horrible thought!
Pro Sculpting Crème in Coffee Walnut - to shade and sculpt cheekbones, temples and as eye shadow buffed all over the upper lid to just above the socket line and also a soft haze of colour along the lower lash to shape and sculpt.
Pro Paint stick in Red mixed with Crème Colour Base in Fabulush – Used sparingly to create the blush across the cheeks, down onto the jaw line, across the nose and around the hairline.
Pro Sculpting Crème in Copper Beach – buffed around the hairline to blend in the creme blush, on the top of the cheekbones, on to the neck, jaw line and chest area. This was buffed and buffed until it looked completely natural.
Brow pencil – in Fling, Lingering, Strut etc to draw on individual brows to thicken a give natural fullness to brows.
Brow Set – in Beguile (like mascara for brows) to add thickness and set into a brushed up shape.
Eyelashes were curled and a touch black mascara added to top lashes for some of the girls - others were left mascara free if it suited the look better with their colouring.
For lips I wanted to re-create the colour of the women's lips in the old portraits I had on my mood board – the look lips would have if you were out in the elements for prolonged periods. I used the shade Dark currant from the Crème shadow palette for the up-n-coming Autumn 2012 collection. Mixing Dark currant from this palette with, a touch of the palest Sculpting crème and Copper Beach.